Restoration Hardware Bathroom Vanity Look-Alikes For Less!
If you love the style of Restoration Hardware bathroom vanities but also love to save money, you have come to the right place!
For those of you who have been following me for awhile, you may have already heard my speech about how much I love Restoration Hardware's style and selection in my article Restoration Hardware Chandelier Look-Alikes for Less!
It's true, I really do love the look of many of the items sold at Restoration Hardware, including their modern and stylish bathroom vanities.
While I love so much of what they sell - I also live in the real world.
That's why I'm keeping the budget-friendly Restoration Hardware ideas coming your way to help you create a gorgeous home you love everyday.
Affiliate Disclosure: As an Amazon Associate I earn from qualifying purchases. You should assume the owner of this website has an affiliate relationship and/or another material connection, to any suppliers of goods and services that may be discussed here and may be compensated for showing advertisements or recommending products or services, or linking to the supplier's website.
Here's the bottom line: the problem most people have with buying items from Restoration hardware is that everyone has a budget, especially when it comes to remodeling.
And let's be honest, bathroom remodels can be expensive!
Although we may love really love something (like a gorgeous bathroom vanity, for instance), we still have to be able to fit the extra cost into our lives, and sometimes that isn't realistic.
Luckily, there are other options!
These budget-friendly Restoration Hardware knock-off bathroom vanities have all the good looks of the originals without all the pain in your pocketbook.
To help you get the look you want for less, I did the legwork to collect some of the best Restoration Hardware bathroom vanity look-alikes all in one place to make your life a little easier.
Hopefully these beauties can help you get the bathroom of your dreams without breaking the bank!
If you're looking for some bathroom inspiration, you can see that I snuck a Restoration Hardware Look-Alike for the 60" Hutton Double Vanity into the Master Bathroom of our Hilldale Avenue Home Remodel not too long ago!
As you look at the photos below, please keep in mind that these are the full prices listed on Restoration Hardware's website. They do offer a "member" pricing as well which is discounted for those who participate in that program. The pictures belong to Restoration Hardware and the respective look-alike brands, and if you click on the image it will take you directly back to their site where you can further compare specs!
Without further ado, here are the Restoration Hardware bathroom vanities and their lovely (and budget-friendly) look-alikes:
RESTORATION HARDWARE HUTTON DOUBLE VANITY VS. LOOK-ALIKE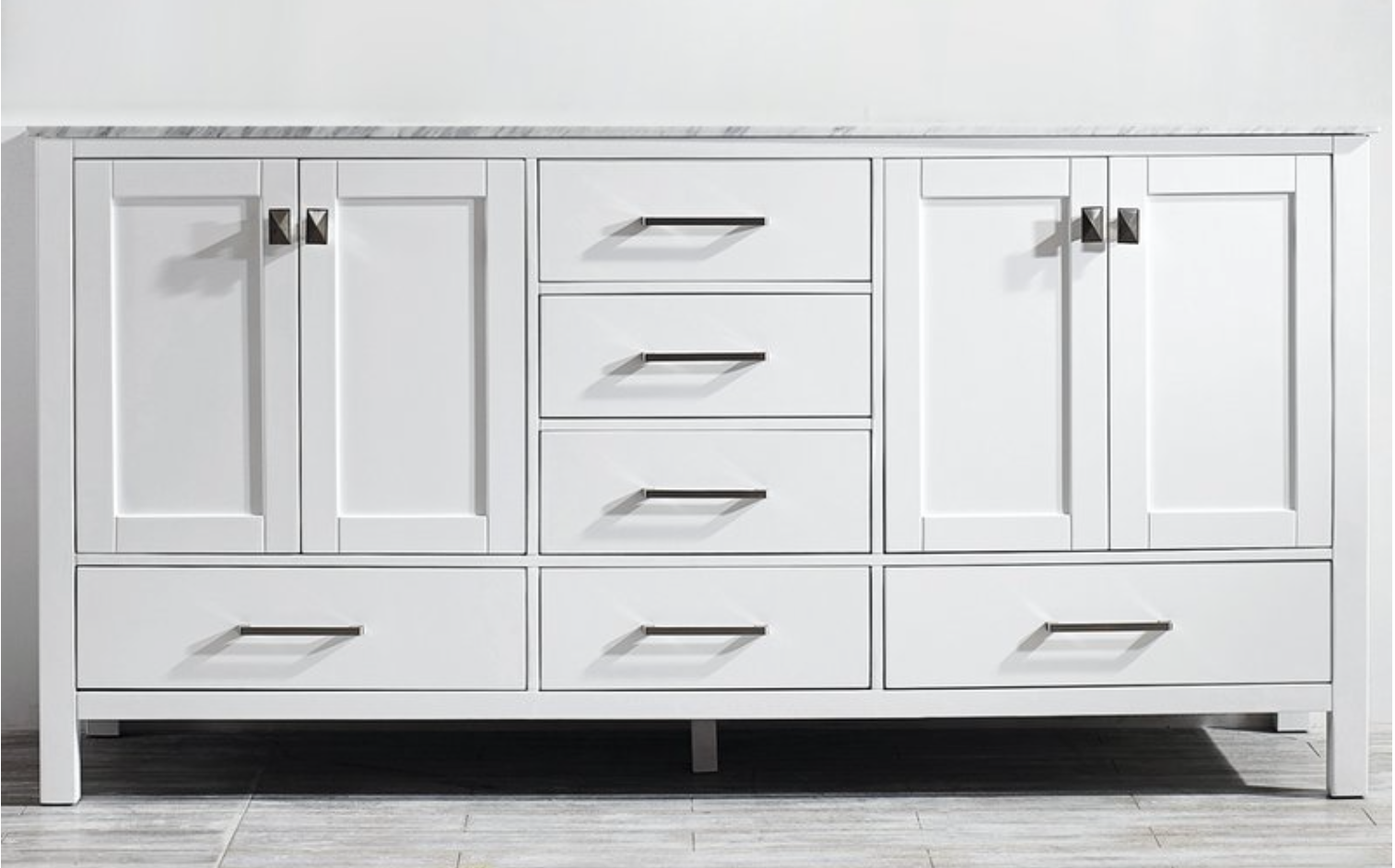 CLICK ON THE IMAGE OR LINK BELOW FOR MORE SIZES OF RESTORATION HARDWARE VANITY LOOK-ALIKES IN THIS STYLE: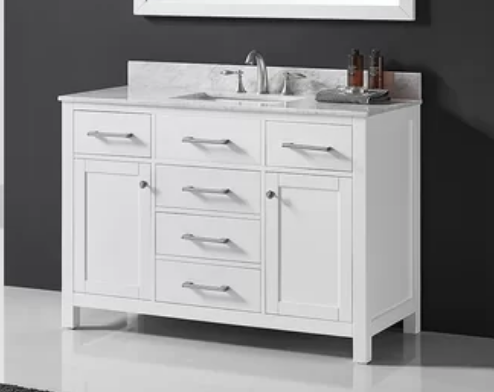 RESTORATION HARDWARE HUTTON DOUBLE WASHSTAND VS. LOOK-ALIKE
CLICK ON THE IMAGE OR LINK BELOW FOR MORE SIZES OF RESTORATION HARDWARE VANITY LOOK-ALIKES IN THIS STYLE:
RESTORATION HARDWARE KEMPTON DOUBLE VANITY VS. LOOK-ALIKE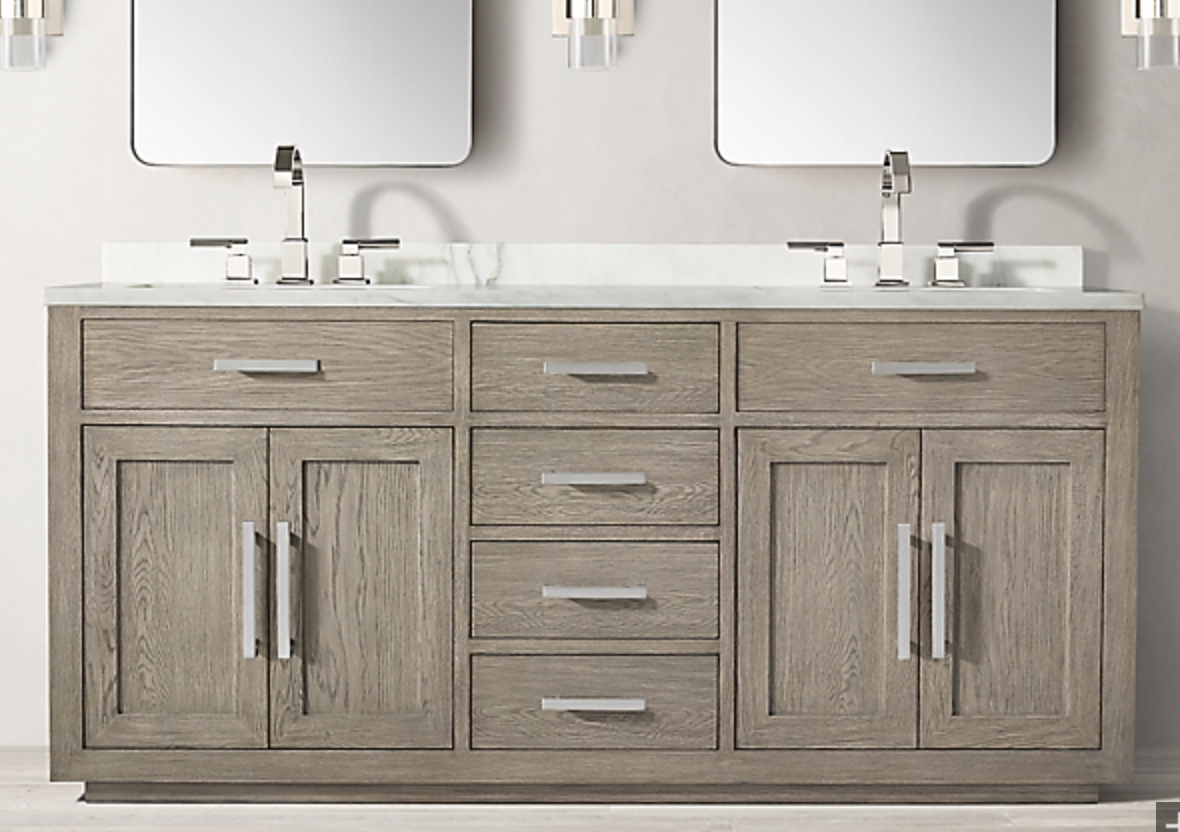 CLICK ON THE IMAGE OR LINK BELOW FOR MORE SIZES OF RESTORATION HARDWARE VANITY LOOK-ALIKES IN THIS STYLE:
RESTORATION HARDWARE ST. JAMES DOUBLE VANITY VS. LOOK-ALIKE
CLICK ON THE IMAGE OR LINK BELOW FOR MORE SIZES OF RESTORATION HARDWARE VANITY LOOK-ALIKES IN THIS STYLE:
RESTORATION HARDWARE PRINTMAKER'S DOUBLE WASHSTAND VS. LOOK-ALIKE
CLICK ON THE IMAGE OR LINK BELOW FOR MORE SIZES OF RESTORATION HARDWARE VANITY LOOK-ALIKES IN THIS STYLE:
RESTORATION HARDWARE EARLY 20TH C. MERCANTILE WASHSTAND VS. LOOK-ALIKE
RESTORATION HARDWARE HUDSON METAL SINGLE EXTRA-WIDE WASHSTAND VS. LOOK-ALIKE
RESTORATION HARDWARE GRAMERCY SINGLE METAL WASHSTAND WITH BACKSPLASH VS. LOOK-ALIKE
RESTORATION HARDWARE KENT DOUBLE VANITY VS. LOOK-ALIKE
CLICK ON THE IMAGE OR LINK BELOW FOR MORE SIZES OF RESTORATION HARDWARE VANITY LOOK-ALIKES IN THIS STYLE: